Traveling With A Dog to Tulum
Looking for a magical and adventurous trip unlike any other you have taken? Then Tulum should be your next destination.
Tulum is home to beautiful soft, white sandy beaches, and gorgeous jungle hotels. The vibe is whatever you want to make it. It has been described as a magical bohemian jungle with so much to do.  When you are Traveling With A Dog to Tulum, choosing a pet friendly hotel is not as difficult as it may seem. There are plenty to choose from. For a first-time visitor like we were, the difficulty may be deciding where in Tulum you should stay with your pet? We choose the Kimpton Aluna Tulum Hotel.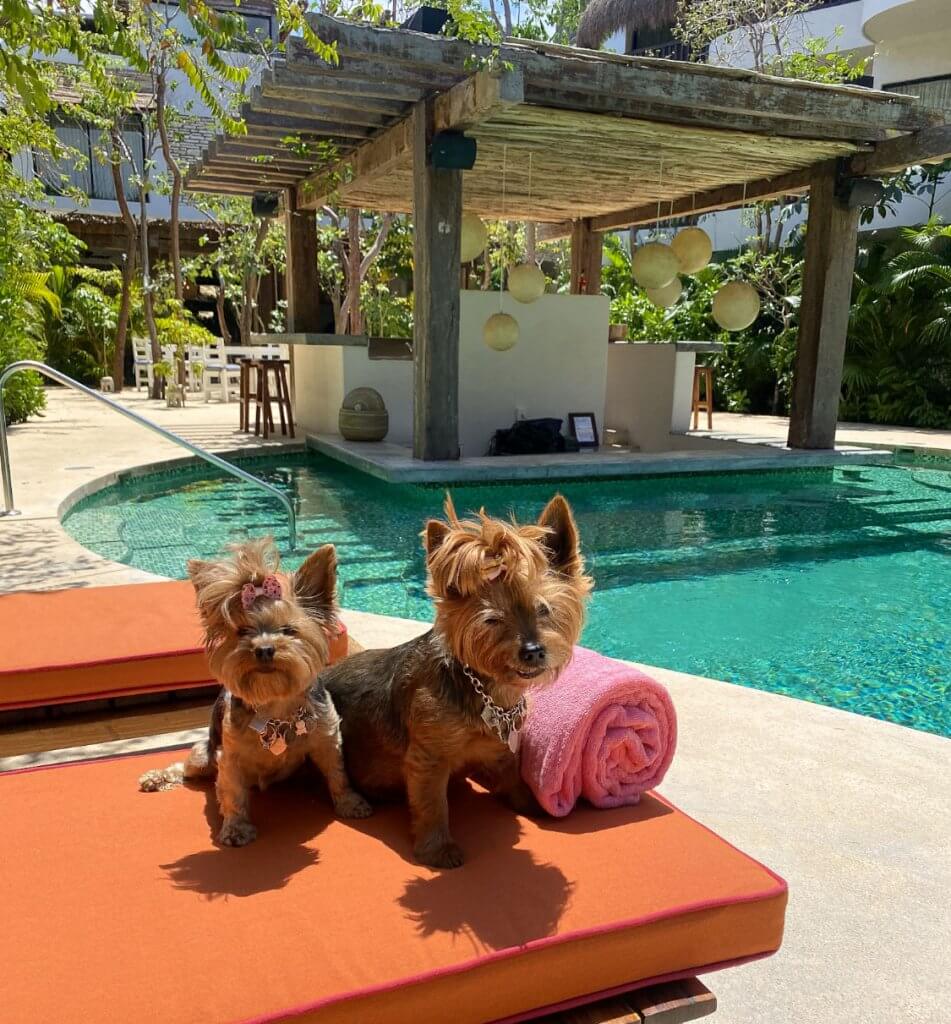 We were thrilled when we discovered the pet friendly Kimpton had recently opened their first Mexican hotel in Tulum.  It made choosing our hotel quite easy, since the Kimpton has an excellent reputation, especially in the dog community. The Kimpton pet policy is "If your pet fits through the door, we'll welcome them in, no matter their size, weight, or breed, all at no extra cost." The location is perfectly located in the middle of everything you will need to do or want to be. It is only a few miles from the beach, walking distance to the art walk, the amazing markets, shops and delicious restaurants in the town of Tulum. For those that are interested in staying right on the beach, there are a few hotels to try but be aware that this is where the beach clubs are located (party central) and the hotels are a little more rustic. More importantly, their pet policies are not as friendly as the Kimpton.
Entering Mexico through Cancun International Airport (CUN) was easy.  All that was needed was our rabies certificates and a quick visual exam of Amy and Emily to check their general health. Click here to read more.
The 90-minute drive to the Kimpton Aluna Tulum was a great opportunity to see some of the countryside. There were no issues with our dogs being in the taxi. Mexico is very dog friendly. As we drew nearer to our destination, the energy and landscape shifted into a mystical bohemian vibe. The Kimpton Aluna Tulum is nestled away in between the town of Tulum and the busier beach area in a new safe development called Aldea Zama. Tulum itself is surrounded by jungle and except for birds, we never saw any wildlife. Important for small dog owners.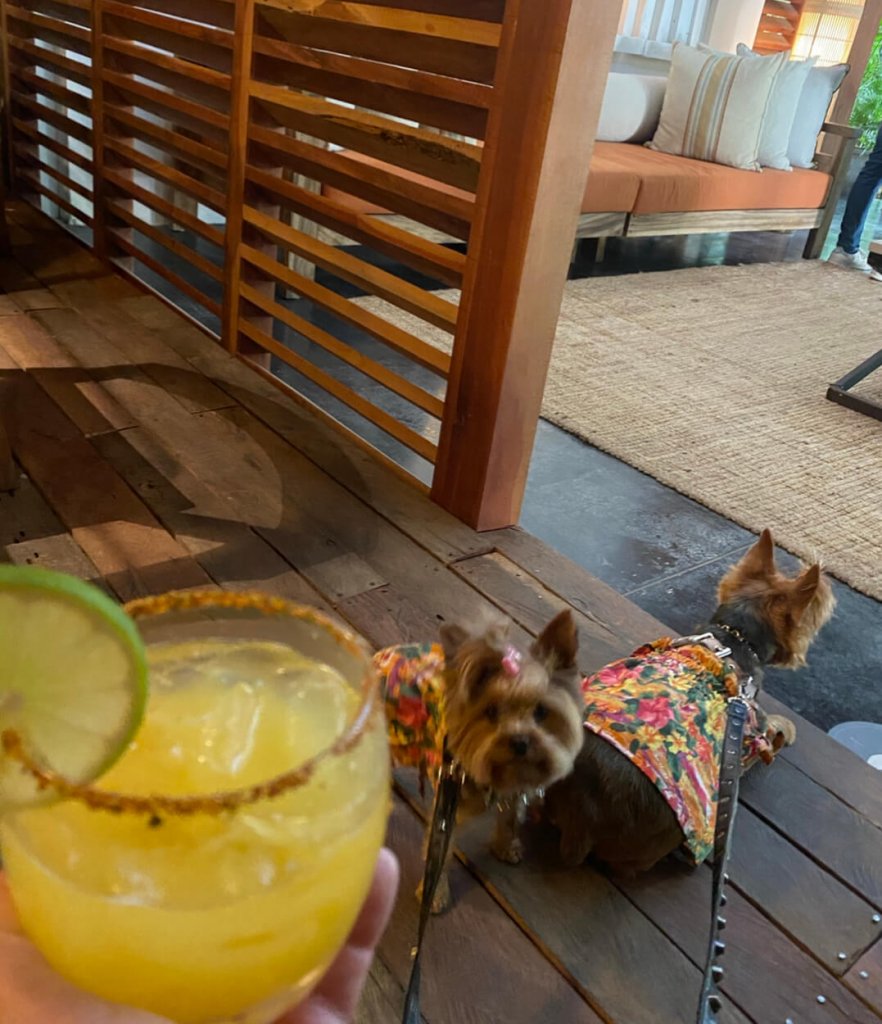 Upon our arrival, the valet at this posh upscale boutique hotel greeted us with a genuine warm smile and a friendly "Hola!". He gathered our belongings and sanitized them with a disinfectant spray for our safety.  The check-in process was flawless and smooth.  They sat us down in a comfortable chair and offered us a hydrating refreshing Tamarindo juice spritz.  The staff were all so happy and attentive to our needs. What really put a smile on my face was most of them already knew the names of my pups. They were trying to figure out which dog was Amy and which was Emily. (Emily, being the precocious one she is, was already wanting to skip the check-in and go straight to the beach).  After the checking in, the staff gave me a small piece of paper and asked me to write down anything negative that is no longer serving me and what I need to let go. I closed my eyes, took a moment, purged what I no longer needed in my life and wrote it down.  With paper in hand, I was guided to a smoking fire pit with scented copal incense. I dropped the paper into the pit and sent the negativity back to the universe. At that moment, we were able to let go and relax in our new home.
The Kimpton Aluna vibe is super peaceful and relaxing. There is subtle upbeat lounge music that plays all day which draws you in like a peaceful lullaby. The Kimpton Aluna is a great hotel choice for everyone from families, dog parents, groups, and lovers on a romantic getaway. The super friendly staff make it an excellent choice.
This place is perfect for us for so many reasons. A tropical haven with lots of shade for Amy and Emily, it is removed from the noisy beach parties at the clubs and the proximity to most everything makes it convenient for dog parents when venturing out in the heat. We love the beach, especially Emily, but the dogs get hot and unless you visit a beach club, there is not a lot of reprieve from the sun. A point to note, not all beach clubs' welcome dogs with open arms. The Kimpton Aluna gives us a lush tropical break to relax.  The rooms are spacious and brand new with a Tulum ecological design with a repurposed wood look. The WiFi was fast and never dropped. It is the perfect place to kick back and enjoy.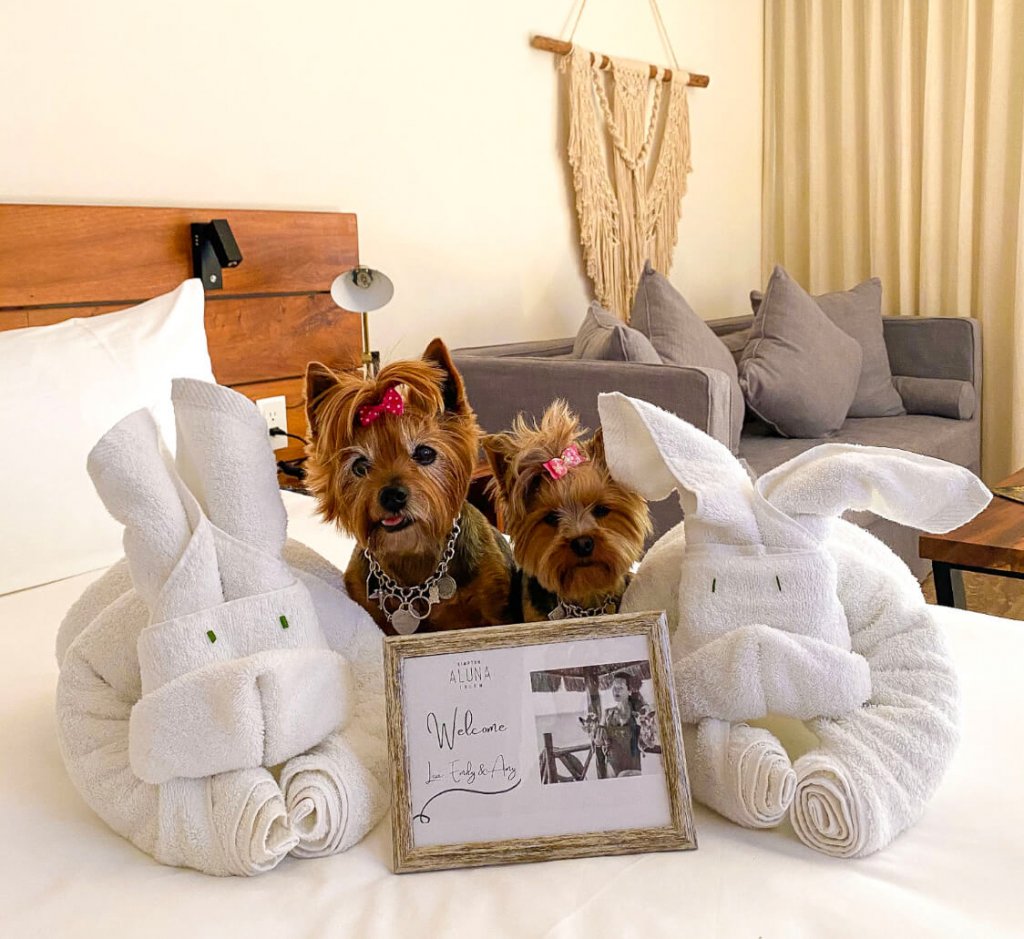 The room they chose for us was perfect! When we entered the room, the hotel had everything prepared for us. It was amazing! The bed had 2 dogs shaped from rolled towels and centered between the 2 was a framed picture of Amy and Emily that they had taken from our Instagram account. It gets better. Amy and Emily each had their own dog bed waiting, treats for each of them and the most amazing thing of all, the hotel had personalized each of their bowls with their names written on them! That is attention to detail, going above and beyond with service and the quickest way to steal a dog mom's heart!! Thank you again Kimpton Aluna.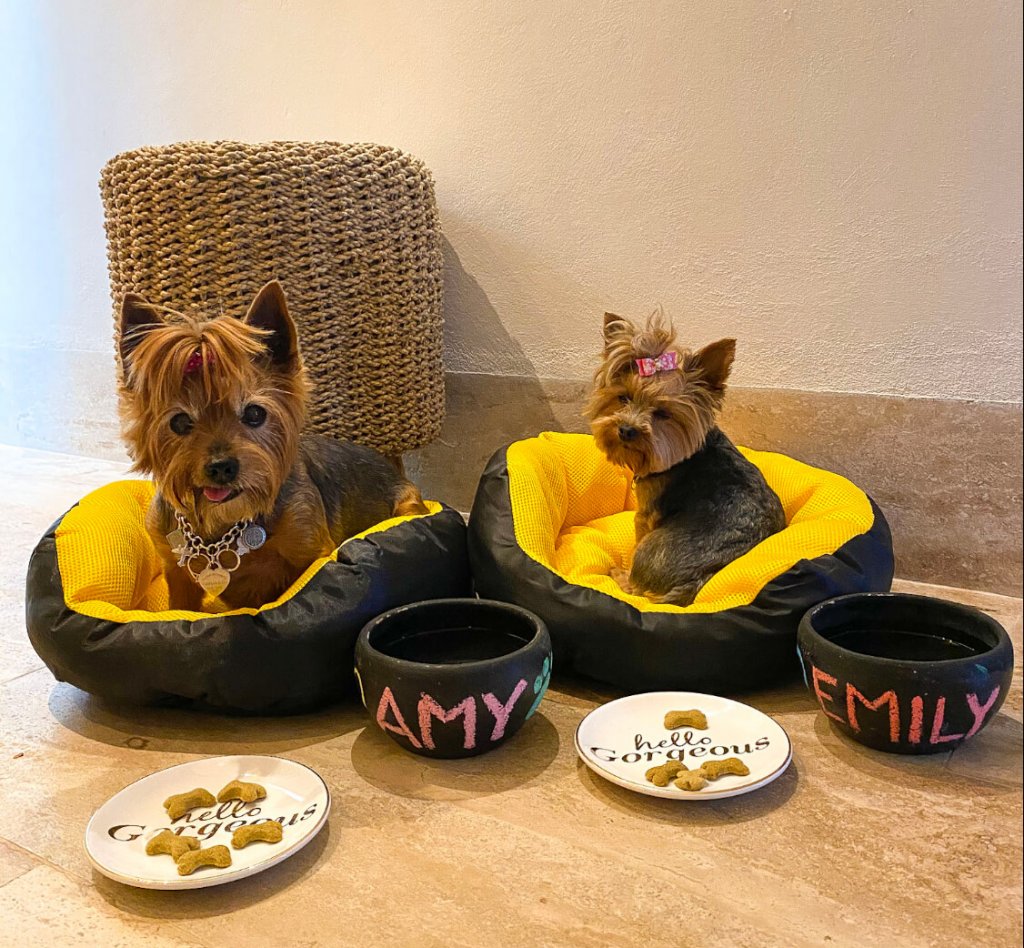 Our room was ground level with direct access to the pool.  The area felt extremely private with plenty of lush plants surrounding the entrance to our room. Nice little hideaway. No need to rush to the pool each morning to secure a chair and then rush back to breakfast only to then rush back to your chair. Our chair was right outside our door to relax poolside. Amy loved this. She could easily head back to the room where it was cooler while still keeping an eye on Emily and I by the pool.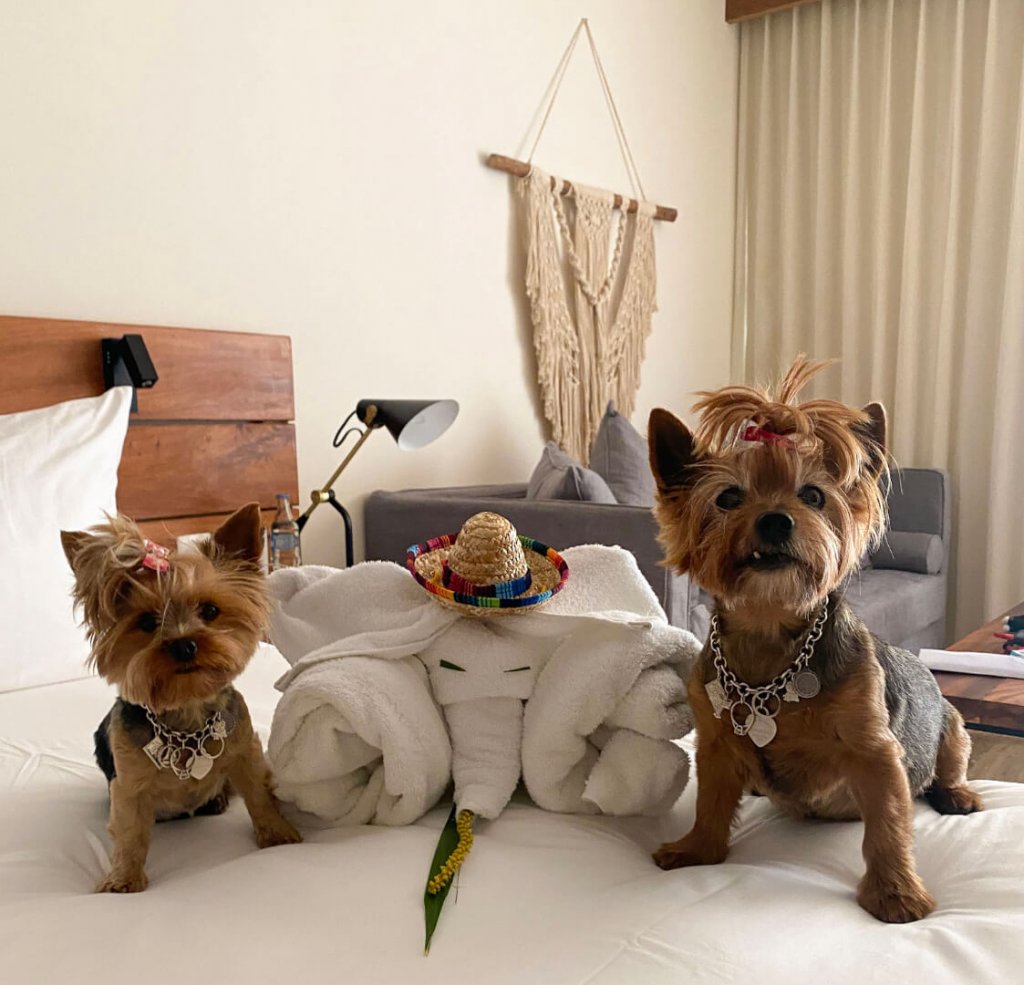 The Kimpton Aluna has a lot of great complimentary amenities such as reciprocal beach club usage, bicycles, gym, weekly yoga classes and our favorite was the Kimpton Aluna social hour, or sometimes called Kimpton Wine Hour.  Kimpton hour is between 5-6 with hors d'oeuvres, small, tasty desserts with either wine or a speciality made cocktail. More importantly, they never forget the dogs. They have tasty biscuits for the dogs every
The staff at the resort were all very friendly, helpful, and kind.  I always felt safe with the 24/7 security patrolling the property. One day I was absent minded and left my iPad at the pool. As you can imagine I was devastated when I realized the mistake I had made, but the hotel had picked it up and it was safe in lost in found.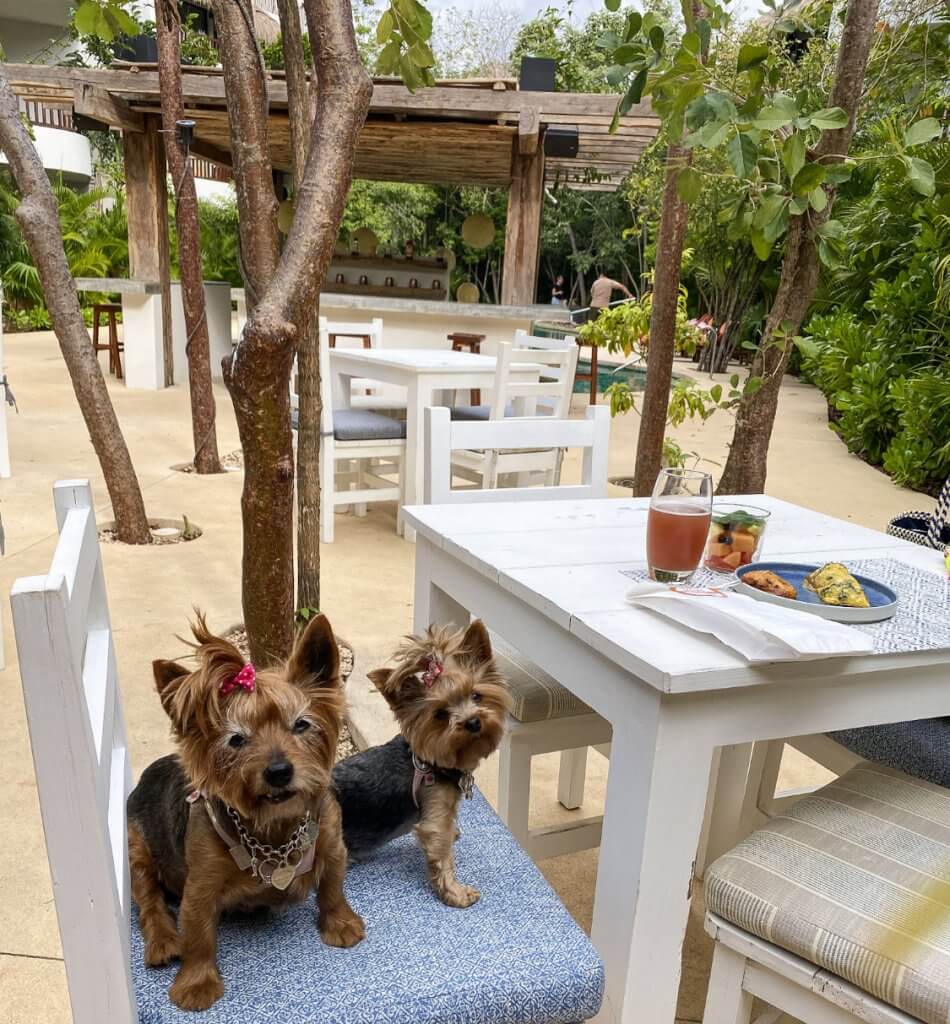 The food at the Kimpton Aluna is all creative cuisine and absolutely world class. Chef Alejandro Daboub recently moved to Tulum from Mexico City and he creates the most delicious meals which include the breakfast buffet, poolside bites, dinner, and delicious desserts. They recently just opened a second restaurant and bar on the rooftop which also has a rooftop pool. It has one of the best views of Tulum, and you can even see the ancient Tulum ruins from there. Not to be missed is the sunset from the rooftop.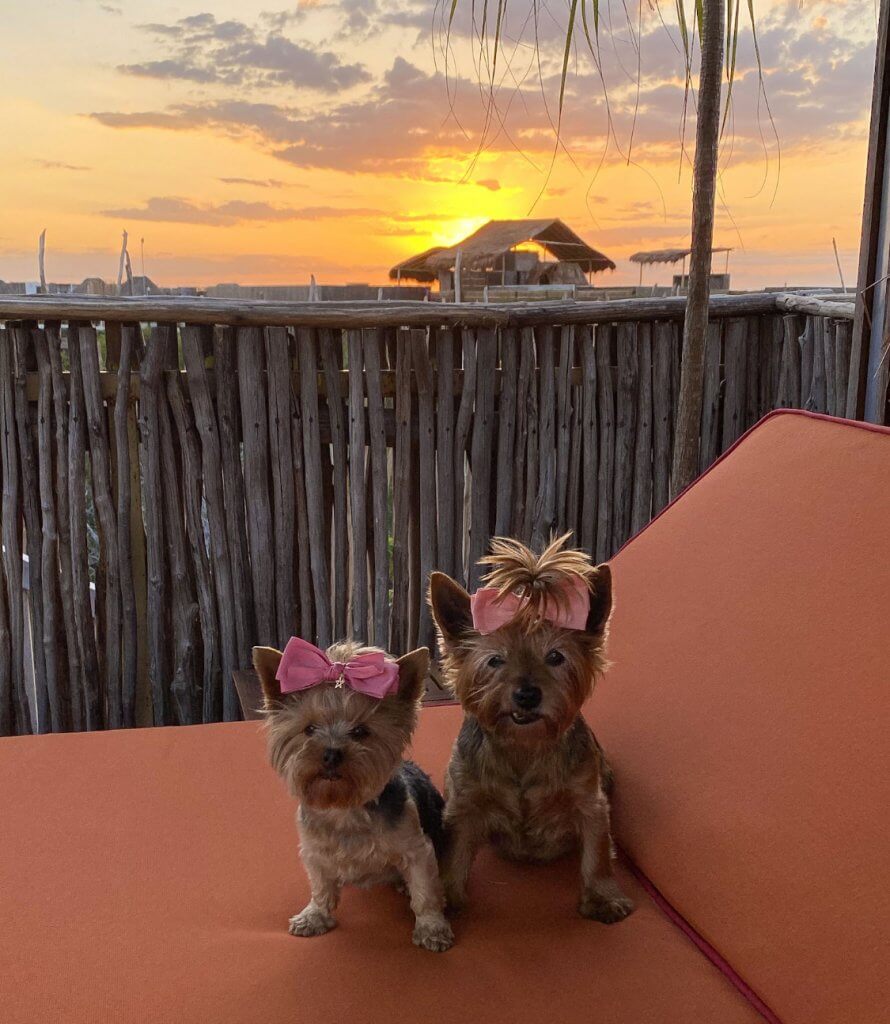 Some other fun activities to do while you are in Tulum include:
-Cenotes
Finally, a 'Pro Tip' for you, make sure to bring plenty of cash for tipping. There is a cash shortage and ATMs have a limited amount of money in them.
Thank you, Kimpton Aluna Tulum, we will surely be back!!