We have arrived in Dallas, and as the saying goes "everything is bigger in Texas " this certainly is the case for this Dallas landmark,  there is no kidding around when it comes to their hospitality department. The level of service was absolutely incredible.
From the moment when we pulled up to the dog friendly Hotel Cresent Court we knew a treat awaited us, the valet was attentive, helpful and were very quick to get our luggage and open the doors for us. It's always a good thing be hands-free from your luggage when traveling with dogs. We strolled into the gorgeous and opulent marble floor lobby to receive a smooth and easy check in. The hotel boasts ten different types of marble from Italy to Spain throughout this gorgeous and sprawling structure.  Hotel Crescent Court is favored amongst discerning travelers, and the Texas elite. 
A super friendly valet porter helped us up to our room to show us around which is always a nice touch, which gave us the opportunity to ask any questions about the hotel, hours of room service or the restaurants.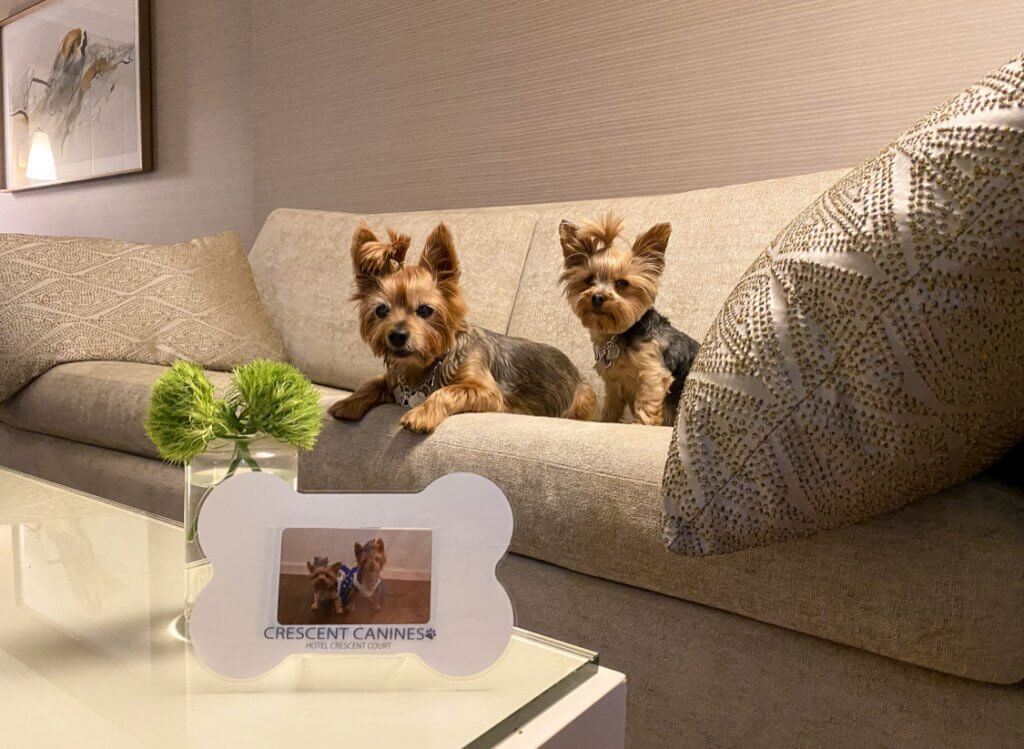 Our room was a fabulous studio suite with a large living room space, which is always a nice addition for the pups to have plenty of space to relax. Hotel Crescent Court really showed off their southern hospitality, and didn't miss a beat with their dog amenities.  They provided everything we needed and more. What was given to us were, two soft plush beds, dog bowls, dog toys, waste bags, pet wipes (which was such a nice touch and by the way was the first time we received these from a hotel), Crescent Canine branded bandana and dog picture frame.  There's something about receiving a frame in your room with a picture of your cherished pups that really completes that personal touch, warms your heart, and leaves a lasting impression.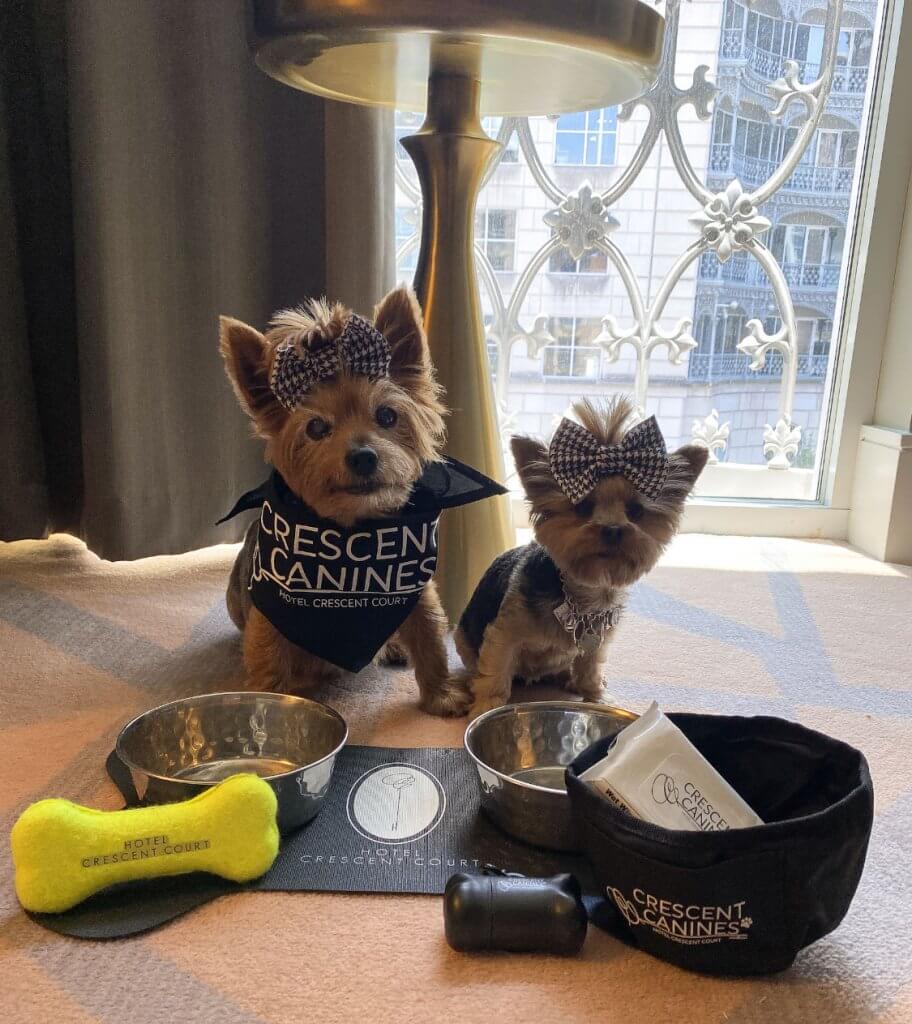 The hotel grounds are absolutely stunning, there is a gorgeous courtyard out back that is connected to shops and restaurants.  The courtyard and shops are dog friendly, however if you're looking for a pet relief area I would suggest you do it away from the hotel, on the hotels grassy area out in front of the valet. Hotel Crescent Court has everything you need from an upscale hotel. They have a dog friendly lobby lounge, award winning spa with fitness center, outdoor pool with food and drink service, and a Nobu restaurant all right inside the hotel. The uptown location is in a perfect quiet, safe, and posh location.   We never heard any noises from outside the hotel or from any neighbors in the hotel.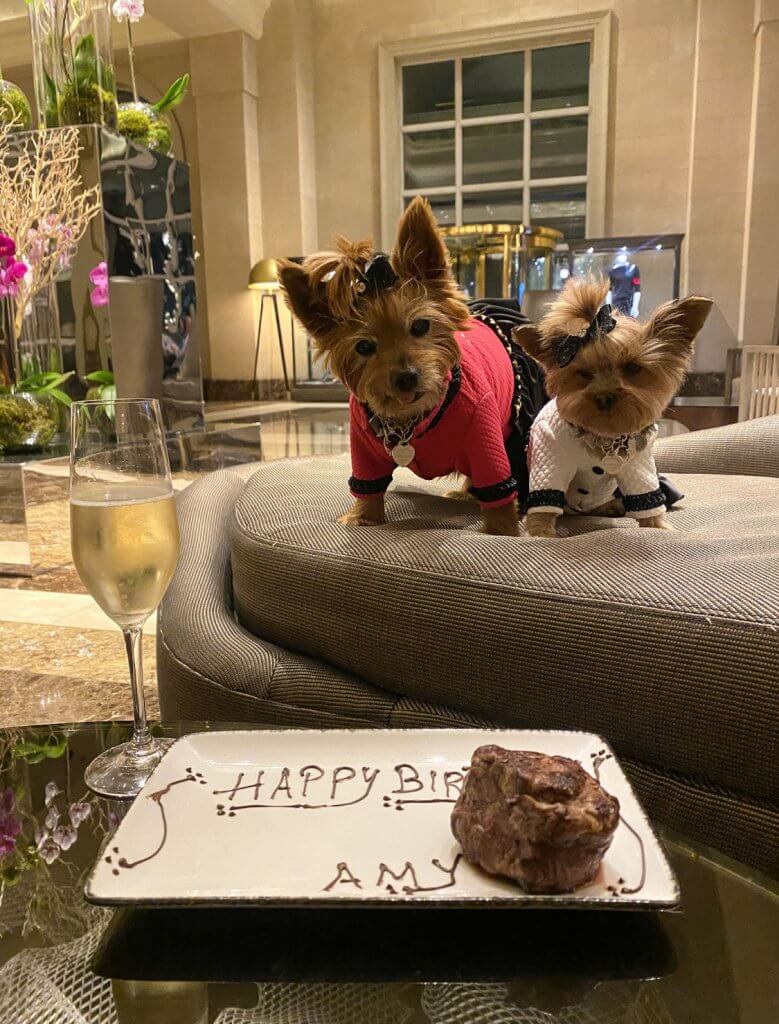 One of our favorite memories during our stay was celebrating our Yorkie ,  Amys 12th birthday.  The hotel was able to accommodate our special request of a Filet Mignon steak cake delivered to the lobby lounge.  The staff brought a delicious steak for presentation, and then brought it back after they had cut it into small pieces and placed it in a dog bowl, so it could be easily fed to my two Yorkie's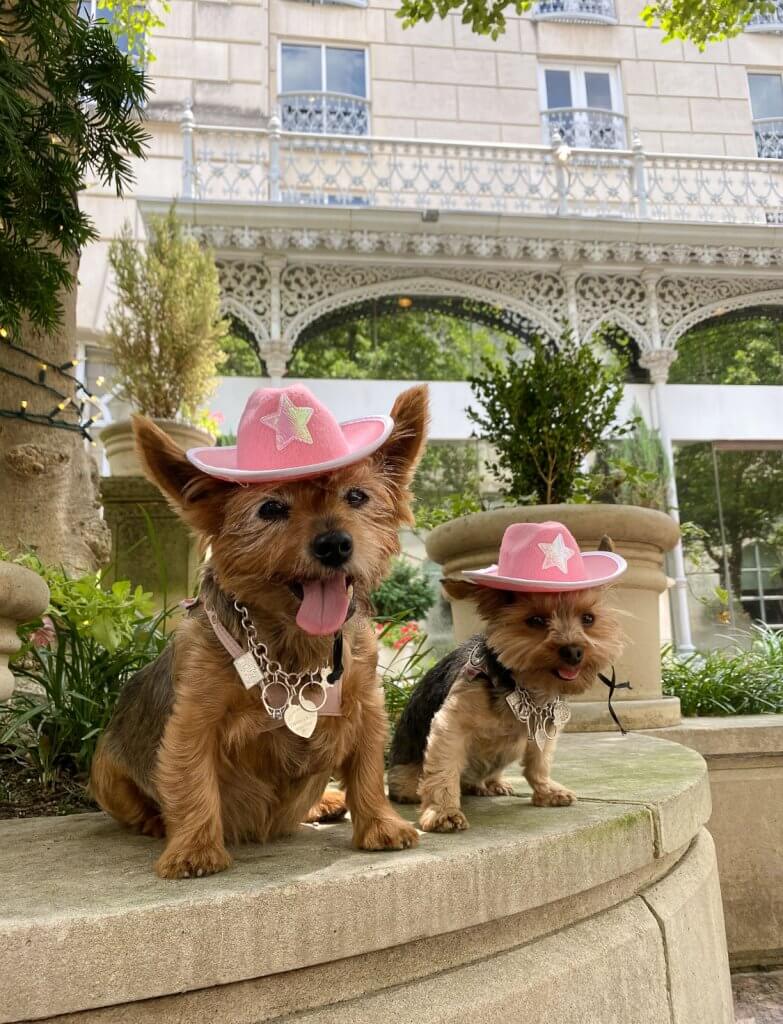 The hotel is rich in heritage with the French Renaissance façade, and full of sophisticated Texas charm.  The people are so friendly, and welcoming. As a Lone Star State landmark, Hotel Crescent Court is a destination in itself.  We spend 4 nights at this charming hotel and could of easily stayed a week.  These uptown fancy cowgirls are looking forward to our return to the Big D.