Traveling With A Dog to Tulum Beach Clubs
After arriving in Tulum, its time to kick back and relax. You know your pup wants to explore and be by your side, so we compiled a list of dog friendly places where you can spend the day lounging beachside with great food, music, and your best friend. We took some time to explore the best dog friendly beach clubs, and pools to find the best dog friendly vibe.  Below is our list.
First things first. If you have a beach club in mind and you are not sure if they are dog friendly, take a walk along the beach and check out the one's you want to see. No better way to see if they are dog friendly. Going in person with your pup will give the club a chance to see your dog and will find out if you might have any issues once you make a reservation.
What you need to find out…
How dog friendly are they?
How much is the Chair rental? Extra for bed or cabana?
Does the entry price include the minimum spend for food and drinks?
Dog Friendly Key
  Don't Bark at me
 Tons of Puppy Love
Bagatelle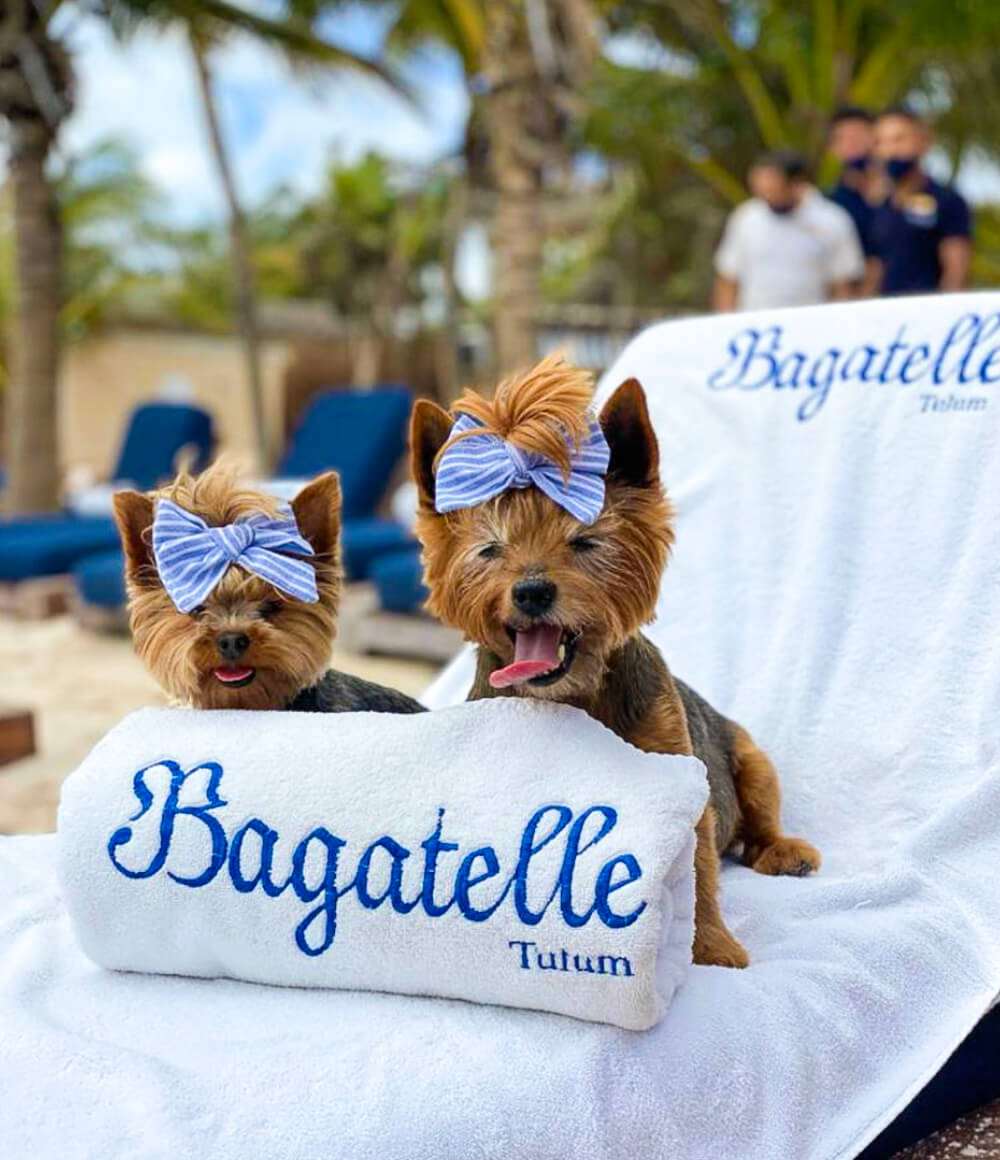 Bagatelle is the newest hotspot in Tulum. We were pleased that they were able to host us as they are not as dog friendly as other spots.  We were told that we would have to be seated near the beach away from the action. That was perfect for us.  We prefer to be close to the beach. We were also told Amy and Emily would not be allowed on the towels. The vibe during the day was pretty relaxed.
For not being a dog friendly beach club, and after a few small bumps, they treated us fairly well.
Tip: Always make sure you bring your own towels to beach clubs and especially here.
They accepted all forms of payment here USD, Pesos, Amex and Visa
Posada Margherita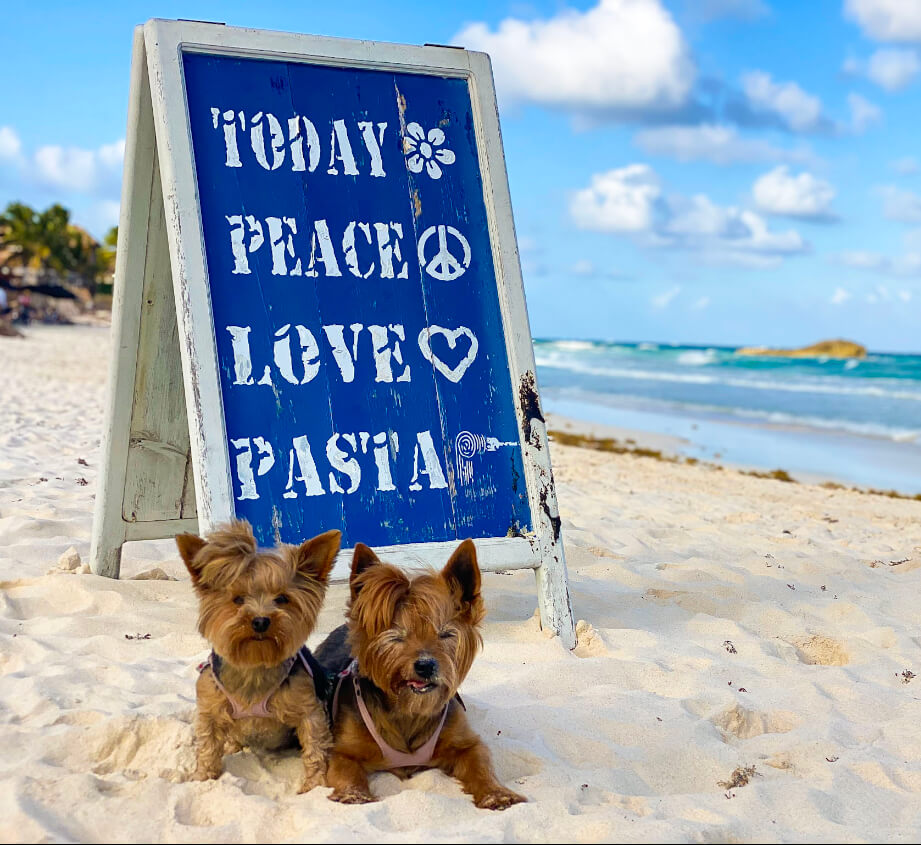 We absolutely loved the beach and vibe of Posada Margarita.  Its a laid-back oasis owned by Italians, and they call it"Tranquillo".  Having been to Italy many times before, we know Italians love their dogs. There are two adorable dogs on property, Vito and Felice. The people at Posada Margherita are very sweet and accepting of other dogs visiting the club. The beach area is an extension of the restaurant so they ask that the customers eat, and not just have drinks.  Its a small hotel so they give preference to their guests when it comes to the beds. If you do come for lunch and there is space available, you are welcome to use a bed. They are open every day at 7:30 am for breakfast. Lunch and dinner menu starts at noon and goes until 9:30 pm.
Pro Tip: Please be aware that they do not accept credit cards in the restaurant, but if you have an American bank you can sellers, or Venmo.
Kanan
This lush private adult only beach front club is great for a day of relaxing, and unwinding. There are 2 choices when you arrive – beachside or tree top rooftop.  We choose the beach because again, Emily must be beachside so she can watch the water and chase seaweed along the shoreline. Amy was our hostess. Super friendly and always helpful to make sure we were happy.  They were very dog friendly.
Pro Tip: choose the rooftop treehouse pods for a completely unique experience.
The menu was extensive with lots of healthy smoothies and other options, so you don't feel like you have to day drink.  We had a smoothie, fruit bowl, tuna tartar and 2 bottles of water for $56 USD. Very reasonable for the quality and time we spent there.
Entry food minimum was $40 USD; accept all forms of payment
Kimpton Aluna
The Kimpton has a very peaceful vibe in a very secluded environment.  You have the option of relaxing by the lush ground level pool that has a swim-up bar, or at the ultra exclusive rooftop pool. The drinks, food and service are all great from their delicious menu. Huge plus – it is very dog friendly. Kimpton Hotels are known to have great pet policies.
No minimum spend; accept all forms of payment
Bardot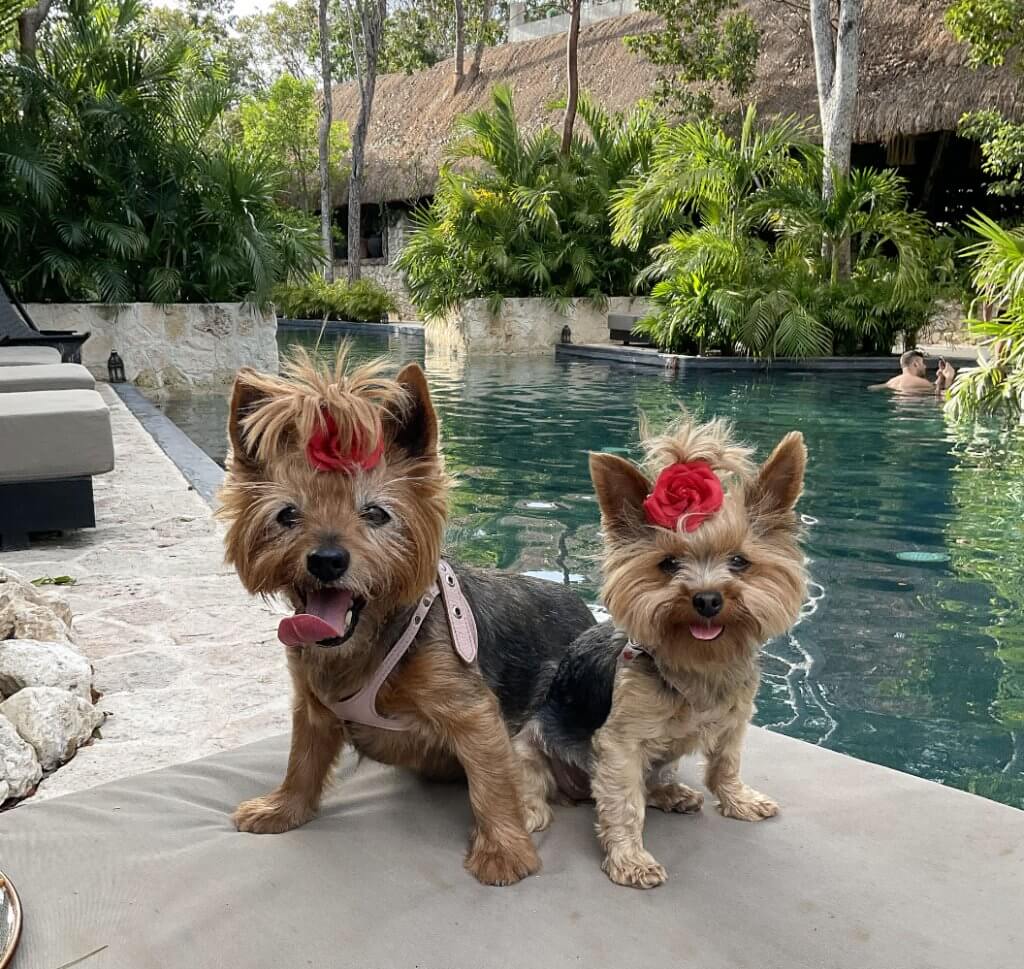 The vibe here is a very 'spiritual, be in the present moment' vibe. This is not a beach club but we thought we would include it.  They have a laid-back pool area with great WiFi.  It is extremely low key and off the beaten path.  Super dog friendly!  We never had an issue with the dogs.  Food and drinks were delicious. You can view there menu here 
$25 USD minimum spend; accept all forms of payment
Villa Pescadore
Down to earth Beach club. Villa Pescadore and the hotel next door are part of the Ahua Collection (most of them are dog friendly) Great service and values. The waves were calm, and the beach was flat. The great thing about this beach club is that you can see the Tulum ruins off to the left. If you have the desire, they have boats for hire to take you to a private beach at the ancient Tulum ruins. Their menu has tons of healthy options
Accept all forms of payment
Hotelito Azul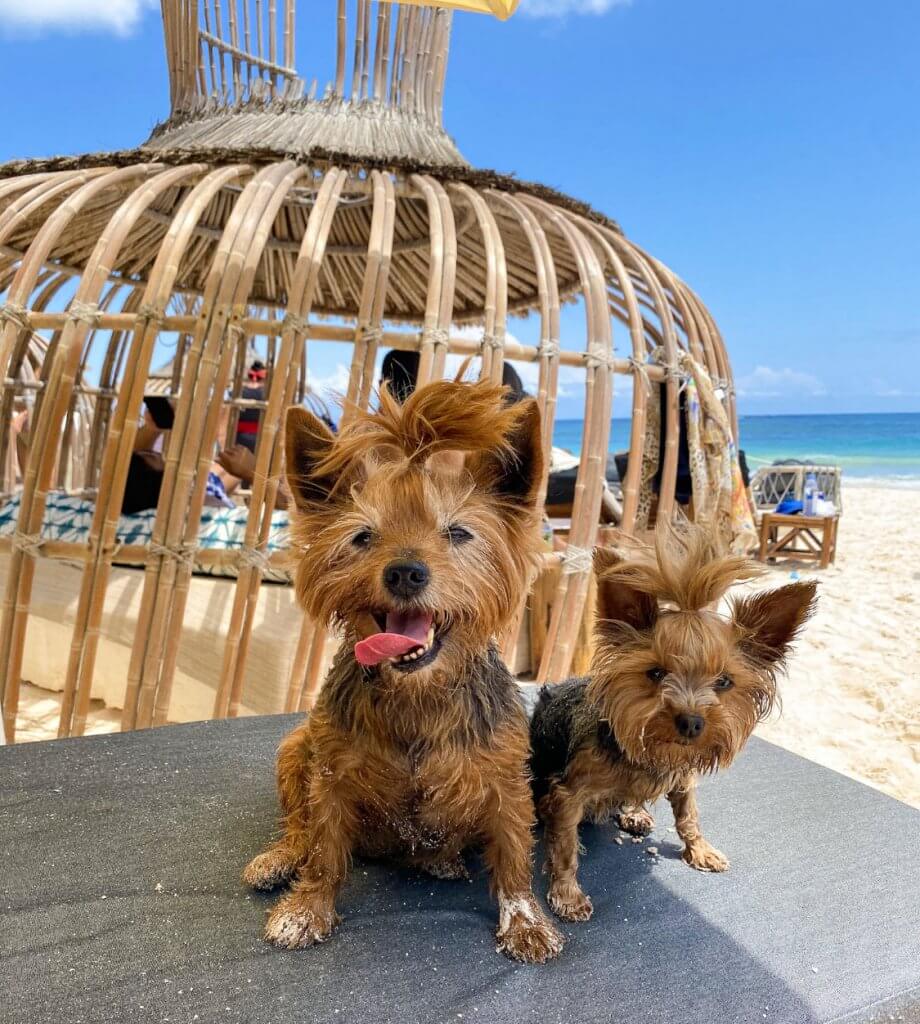 This beach club was down to earth and super dog friendly.  It is easy to spend a whole day here since you have the option with your minimum spend of $50 USD to either relax beach side or poolside on their rooftop lounge. They have lots of healthy food options on their menu and even have massages on site.
$50 USD minimum spend; accept all forms of payment
Gitano
The place has a club feel, but its also dog friendly.  This place attracts lots of Instagram influencers and models. We didn't get the chance to spend the day here but it's definitely on our radar for our return trip.
$100 USD sun bed credit – ($20 cover; $80 for food); accept all forms of payment
Pro traveler tips
– Even though its a beach club, bring your own towels. Sometimes they limit one towel a person. Some places do not even provide towels. Pack one for you and one for your pup. The sand is very fine and there is nothing worse than having your pup collecting sand in their mouth.
– If the trendy club you want to go to isn't dog friendly, try the club next door. The beach will be the same and you may be able to hear the music.
– Some beach clubs will let you buy an extra towel. Another trick I have heard is to give them your ID to hold for you to give an extra towel or pay to rent an extra towel.
– Bring a charger. Power is scarce.  You will be taking lots of photos.
– Bring an extra change of clothes.
– Get to the beach club early to make sure you get your preferred spot.  Emily loves to be beachside so she can run to the water.
– Bring a life jacket for your dog if your dog is a swimmer.  The waves are quite large and choppy.
Enjoy your day at the beach club!!