In need of a relaxing weekend getaway? Depending on the time of year Palm Springs has everything for a perfect getaway. When most people think of heading to the desert, they usually think of hot sun and lots of cactus. When they think of Palm Desert, they usually think of retirement. It does have a slower more relaxed pace to it which is perfect for that quite relaxing getaway. In Palm Springs you can always relax poolside with a book, cocktail, and your dog by your side. If activities are your choice, there is plenty of opportunity for golf, tennis, and early morning hikes.
Our favorite thing to do in Palm Springs is relax, recharge, and take it easy. This is something that Amy and Emily do very well! They are naturals at it. Enjoying the heat while lying in the shade is exactly what they do best. We try to avoid the heat of the day by doing our walks in the morning or early evening when it's not as hot.
Something to be aware of when you are out for a walk. If you are staying in an area that is not so populated or at a golf resort, be mindful that coyotes are usually in the area so keep your pups on a leash and stay aware.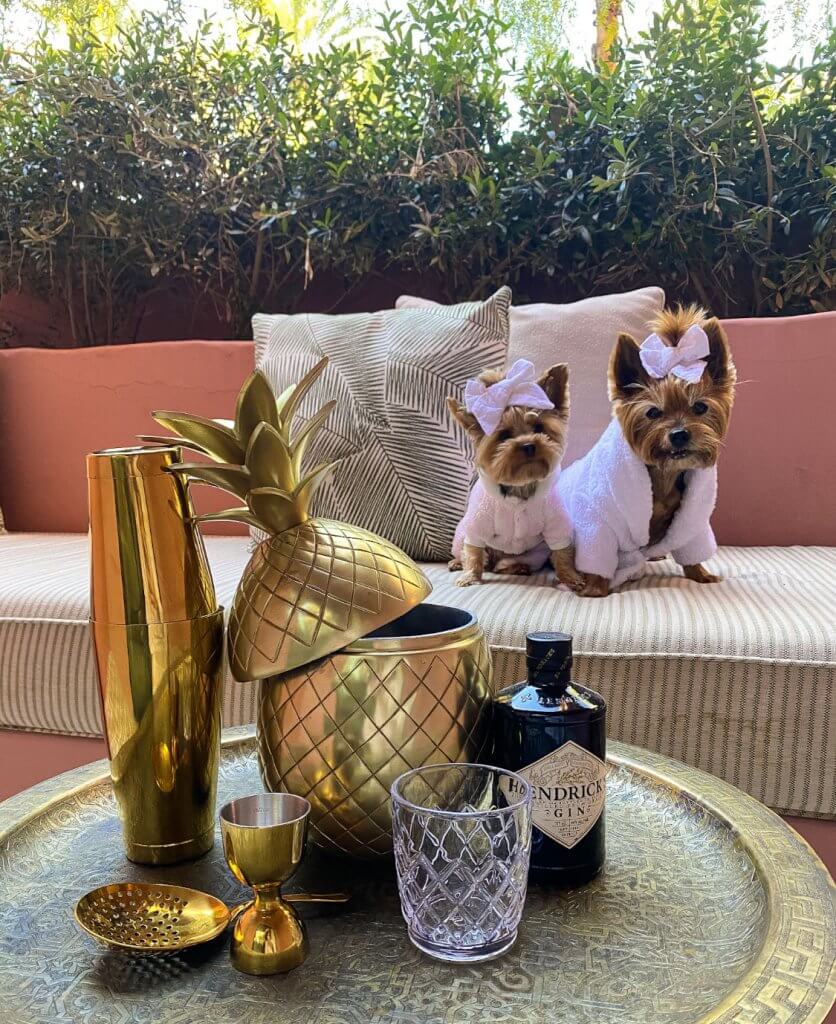 On our last visit we chose to stay at the dog friendly Sands Resort and Spa. What a great choice. It was like we discovered the best dog friendly resort in Palm Springs. Here is the hotel pet policy 
The unassuming boutique hotel is not just dog friendly, it is also stunning. When you enter the pink boutique hotel through the black unmarked main door, you step into a world that is filled with many colors making you feel like Marrakech décor meets old Hollywood charm in the desert.
The hotel room has everything you will need to feel right at home. There were plenty of luxurious amenities and the room was clean and very well done. Of course, what would a dog friendly hotel be without dog beds, bowls and treats.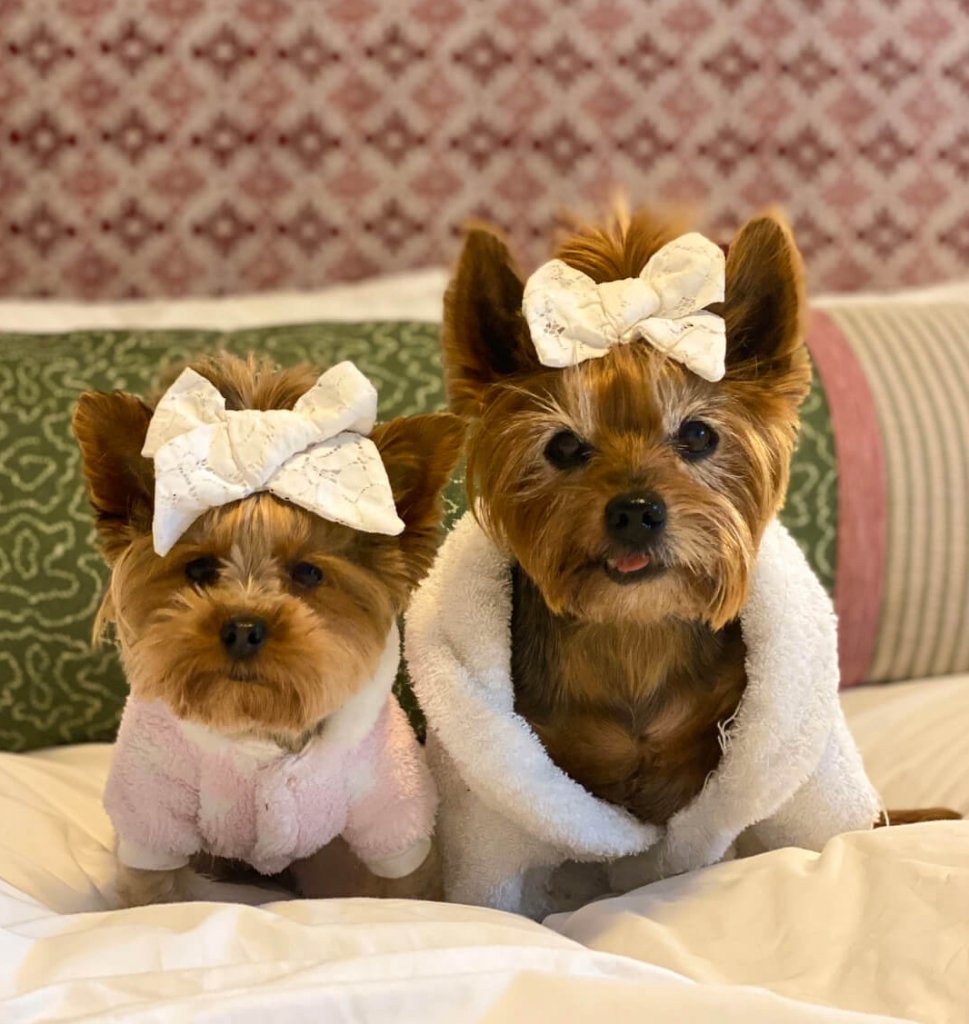 Dining at the time was all outside. This was simply fine for us because the girls were able to join us at our table while we ate dinner. They were welcome anywhere in the resort. The hotel has an enclosed courtyard with fireplaces and lush vegetation. We were pleasantly surprised to see many other dog owners with their dogs at the resort. It is truly a dog friendly place. It has a quiet atmosphere that has a very chill vibe to it. This atmosphere lends itself well to dogs which gives them a calming, safe feeling.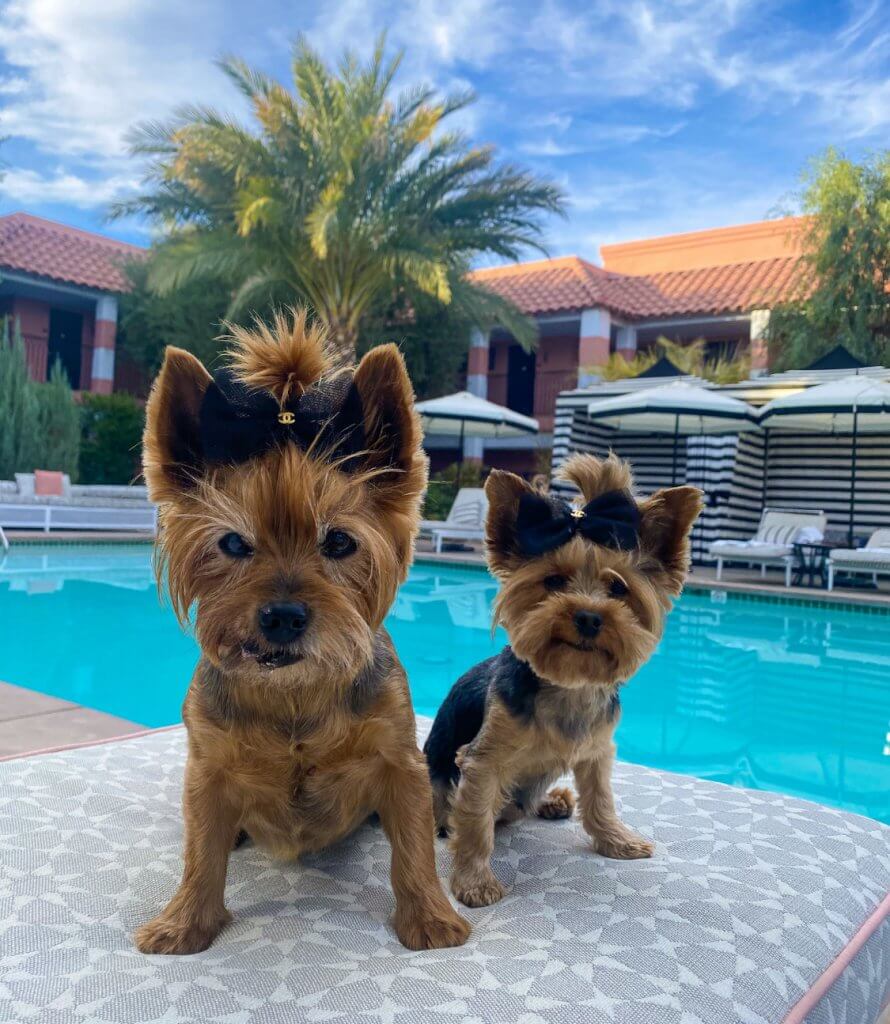 When we woke up the next morning, we decided to relax poolside. The rectangular pool is centered in the middle of the courtyard and is surrounded by rooms on all sides. The pool area has a Beverly Hills hotel feel to it and is adorned with cabanas, loungers, and day beds for your relaxing pleasure.  After taking the girls off property for their morning walk, we settled onto our day bed to get some sun and eventually have that obligatory poolside cocktail. Amy and Emily were incredibly happy to see 4 other dogs relaxing poolside with their owners. All of them were well behaved and just as chill as the atmosphere they were taking in.
When you take your next trip to Palm Springs, make sure to take your pup with you and stay at the cutest dog friendly resort in town, the Sands Resort and Spa. Perfect for anyone looking for a nice easy weekend getaway. Amy and Emily will definitely be back for a stay.